Stonham Barns Park 'Keep-Up' Sponsorship of Stonham Aspal Football Club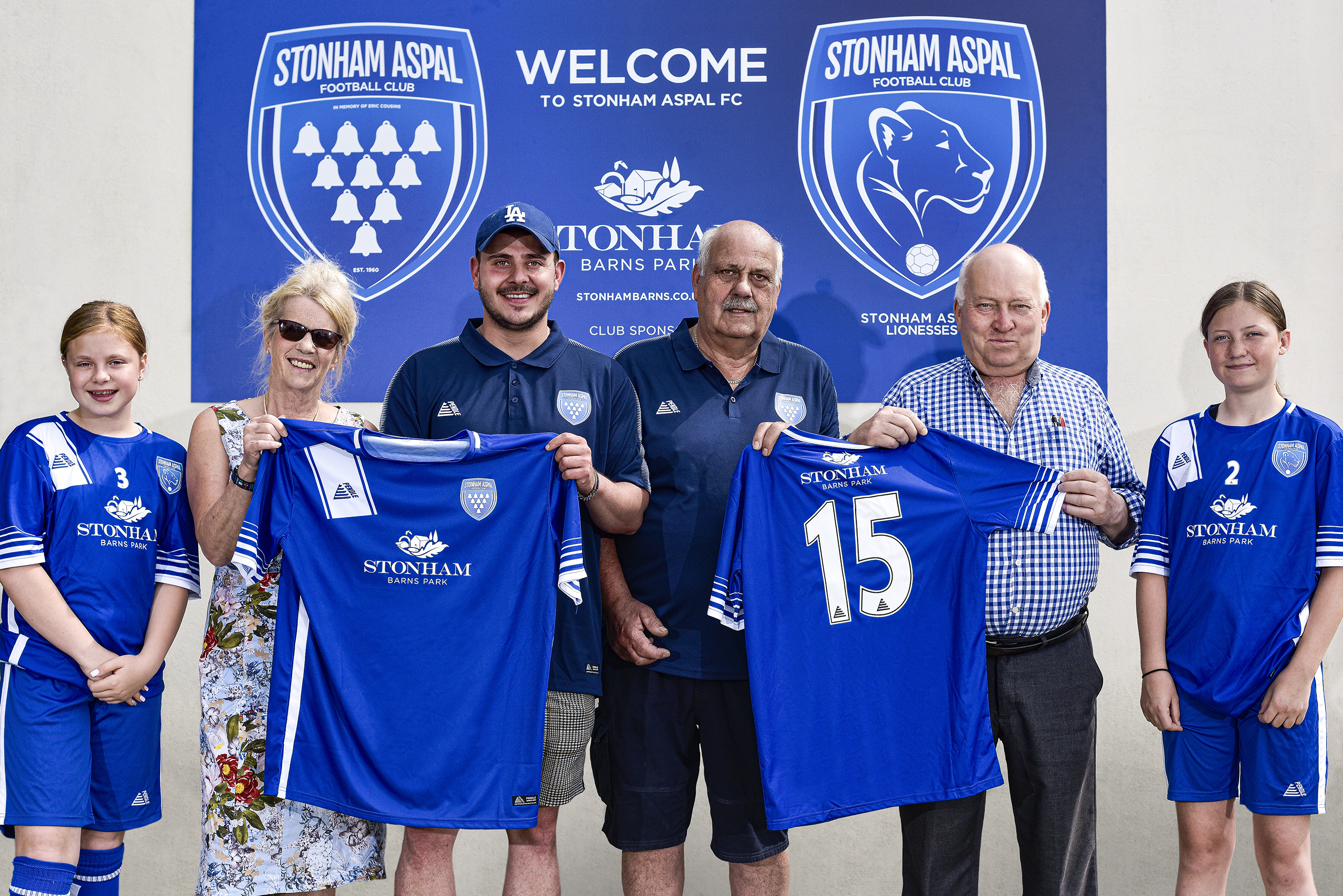 We are continuing to sponsor Stonham Aspal Football Club, after 8 years of support, as the Club prepares for more expansion and development of its community facility.
The handover of new sports kit and club signage will take place on a 'Celebration Day' dedicated to the former Secretary and Treasurer Eric Cousins, who sadly died in 2020 during the early pandemic, aged 72.
Eric was loved and revered by everyone at the club and known by members as 'Mr Stonham Aspal Football Club'. His family – including wife Val, son Mark and daughter Heidi – who have also been involved in every aspect of Stonham Aspal Football Club life, will be attending the day of celebration. There will be a match between a legend's (former members) team plus food and drink outlets on the day.
We have been sponsoring Stonham Aspal Football Club since 2013 and increase support year on year. This year the sponsorship covers kit, signage, and the design of new Club badges for the teams featuring the
'Ten Bells' of Stonham Aspal for the men and 'Lionesses' for the women's team. Said Owner Alan Forward, who will present the kit with Stonham Barns Park Manager Janice Rowles, 'This is such a special club where great memories are made. It's all about football, families and the community and we are delighted to be a part of it.'
'The Club has gone from strength to strength and the next stage of development will only help to motivate the teams still further.
It has a great future, and we look forward to witnessing the improvements and following the continuing club's success this season.'
Speaking about the tribute day, John Hearn, the Club's Chairman, said: 'Eric was everything to this Club. He was the figurehead of SAFC and will never be replaced. It gives us great comfort that his family are here with us today to celebrate his footballing life. He worked tirelessly to make it what it is today and did everything from managing its finances to cutting the grass on the pitch!  He leaves behind this great legacy, and we will endeavour to make him proud of the team as we move it into the next stage of its development with additional training space and a new clubhouse.'
'He loved grass-roots football and would be happy to know that the teams are now benefiting from newly badged playing kits and training tracksuits.
When he helped to put the Club together you had to bring your own kit – and I, personally, got picked as goalkeeper because I had a kit to bring!'
'People like Eric are few and far between.  It will be his day, and everyone will be thinking of him.'
The Club – formed in 1960 – has three teams, two adult sides playing in the Suffolk and Ipswich League's Divisions Two and Four, and an under 15s girls' side that play in the Suffolk and Ipswich Women's League.
The Suffolk and Ipswich Football League has a total of 8 divisions and is a feeder league to the Thurlow Nunn Football League. Over the years the club has experienced the highs and lows of promotion and relegation highlighting in the move to Senior Status in Season 1990/91 by finishing runners up in Division One. They have reached the finals of five County Cup Competitions, twice losing Senior Cup finals at Portman Road, and winning one Junior Cup Final at Portman Road.
Originally, the Club pitch was a meadow at the back of Broughton Hall Farm.  It's now based at Delsons Meadow and will continue to be based at the site even as a new residential development is constructed there.
The new pitch will have a new location, an additional training pitch, and eventually a newly repositioned clubhouse.  The season starts on 14th August.