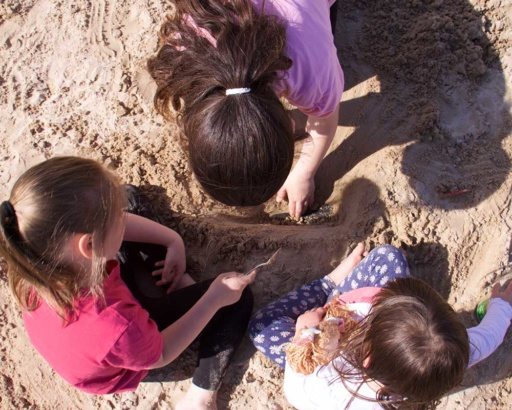 OUR CHILDREN'S AREA IS A SAFE AND FUN ENVIRONMENT FOR THE LITTLE ONES TO LET OFF SOME STEAM.
Our outdoor children's play area has a large bouncy pillow, surrounded by sand, offering hours of unlimited excitement for the youngsters, with plenty of seating for the parents to safely watch over them with a cup of coffee. Within the enclosure, we have our specially renovated and much-loved steam train, for children to venture on, free their imagination and pretend they're driving the train, all FREE of charge!! A seasonal addition to our dedicated children's haven is the miniature fairground, situated within the play area throughout the year (dependant on weather) is a host of fair rides, some juvenile rides and inflatable slides for children to enjoy at a small cost.
The outdoor children's play area is situated in the garden area of the wonderful Teapot Pottery, a fantastic craft attraction suitable for all ages, you can come and create your own individual artistic souvenir masterpiece, from a teapot to a mug, egg cup or helicopter! The Teapot Pottery allows children to be educated on a skill from start to finish, as well as learning about the history of the pottery and where they are shipped to all around the world. A fun and educational visit to a part of Suffolk history.
After all the fun, there is a lovely on-site restaurant/cafe to take the children to for a light snack, cake or full meal, offering a range of delicious and reasonably priced options to suit even the fussiest of eaters. Or if you just fancy treating them, visit the on-site ice cream parlour for a little treat before heading off home from your fun day out.
Visit our children's area and larger site for a lovely family day out in the Suffolk Countryside.
"ALL THIS AND MORE AT STONHAM BARNS, 7 DAYS A WEEK, ALL YEAR ROUND"
WE LOOK FORWARD TO SEEING YOU AT STONHAM BARNS