Glenn McCrory and John H Stracey travel to North Wales to meet the man behind the Fifties Museum and visit Denbigh Boxing Club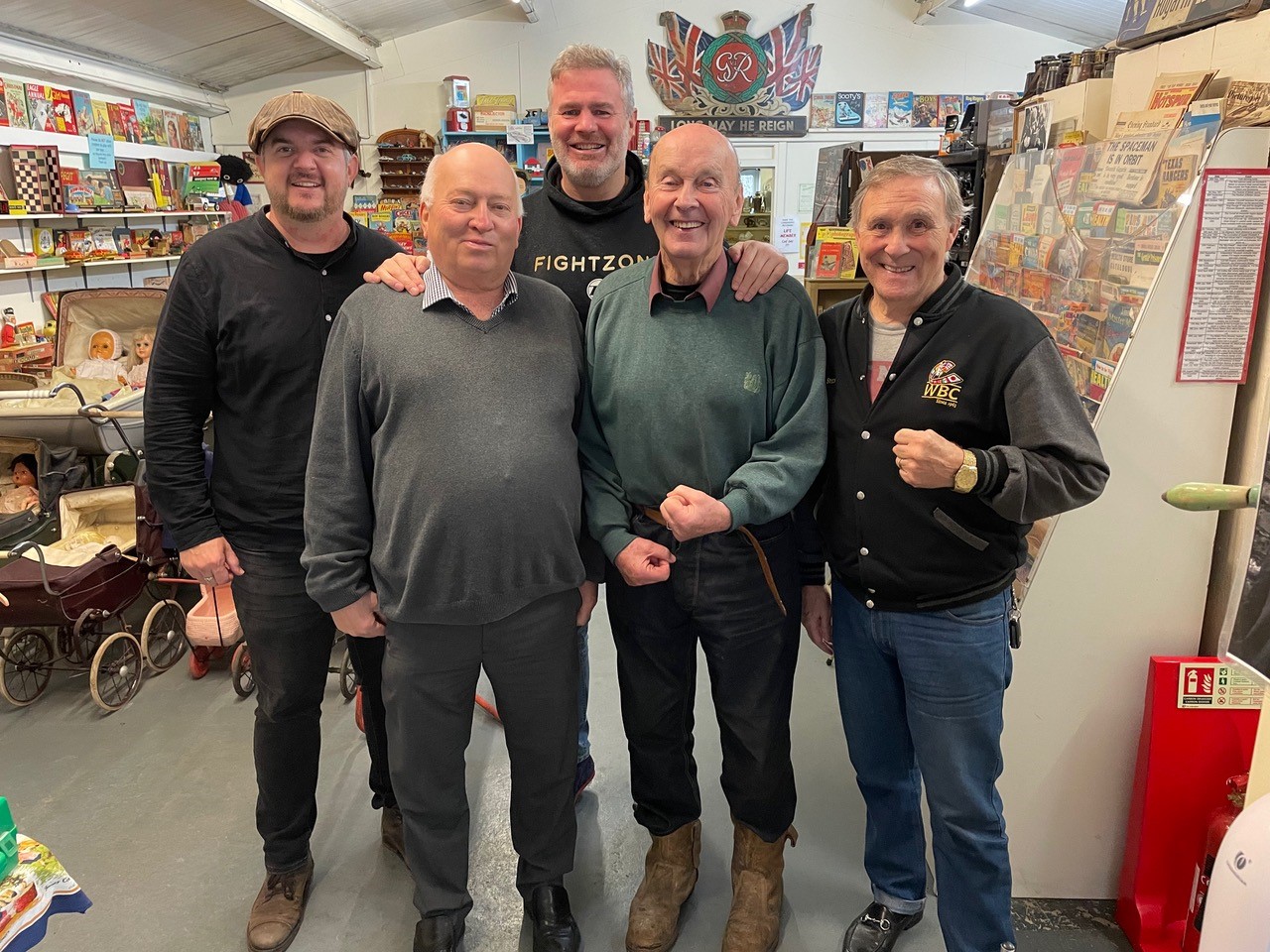 Boys day out at the Fifties Museum … Ronan MacManus, Alan Forward, Glenn McCrory, David 'Sparrow Harrison MBE and John H Stracey.
Two of the biggest names in boxing from the 70s, 80s and 90s visited the Welsh philanthropist 'Sparrow' Harrison who runs the Fifties Museum in Denbigh, North Wales and founded the Cae Dai Trust
which provides accommodation for marginalised people such as ex-offenders, the homeless and those who have suffered drink and drug addiction or mental health problems.
Mutual friend and boxing fan Alan Forward – who owns Suffolk's premier leisure destination Stonham Barns Park – organised the surprise trip after pro boxers Glenn McCrory and John H Stracey agreed to visit.
David 'Sparrow' Harrison MBE was a mechanic who in the 60s was the lead singer in a rhythm and blues band. He later got involved in boxing and became good friends with the Kray twins and Bruce Reynolds,
the mastermind behind the Great Train Robbery. He later founded the Cae Dai Trust and the trust also includes a 1950s themed museum and Denbigh Amateur Boxing Club at its now famous site.
In 2015, Sparrow was awarded the MBE by the Queen for his charity work.
The boxers were given a tour of the museum by Sparrow who was 'overwhelmed' by the visit. A champion amateur boxer himself, he fought over 200 fights and now in
his 80s looks as fit as he was when he was a young man.
Said Sparrow, 'This was a truly surprise visit and I was actually overwhelmed to see these famous boxers on my doorstep here in North Wales! It was such a privilege to have them here.
We are still only just coming out of various Covid measures and so this socially-distanced visit from these boxing giants was the last thing I was expecting!'
'It was a day I will never forget!'
Says Glenn McCrory of the visit, 'We are in awe of this man's achievements. He really has done so much, and boxing is only just a part of who he is – mechanic, musician, boxer, charity worker, he has worked so tirelessly for everyone and he still does. We enjoyed our look around the museum and shared some priceless anecdotes with Sparrow who has had such an interesting and colourful life.'
'He could still pack a punch if he wanted to. What a man!'
Glenn McCrory is a British former professional boxer who competed from 1984 to 1993. He held the IBF cruiserweight title from 1989 to 1990. He has worked as a commentator and pundit for Sky Sports since 1989. John H Stracey is a British former professional boxer who competed from 1969 to 1978. He is a former welterweight world champion. He featured in the movie 'The Krays'.
Denbigh Amateur Boxing Club was started 50 years ago. It became a part of the Fifties Museum when the museum won funding for a rebuild after it was severely damaged by a fire.
The Museum's trustees sympathised with the club and wanted to keep their legacy alive as it had become a big part of the Denbigh community. Denbigh Amateur Boxing Club then had National Lottery
grants awarded by Sport Wales and Funding from Denbighshire County Council so the club could have brand new facilities.