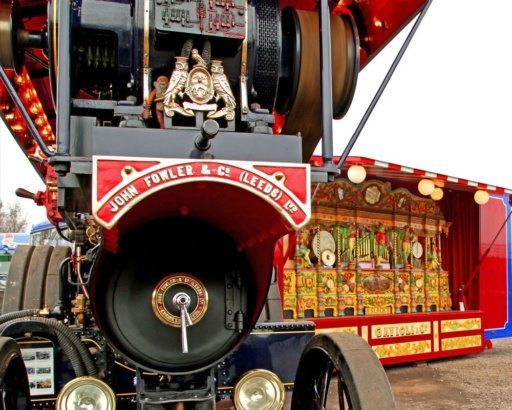 STONHAM BARNS STEAM & VINTAGE SHOW
Saturday 19th & Sunday 20th May 2018
10am-4pm
TICKET PRICE
Adult £7.50
Concessions £5.00
4-15 year olds £5.00
Family Ticket £20.00 (2 adults + 2 children)
Under 4's Free
EVENT DESCRIPTION
The Stonham Barns Steam and Vintage Show is a new event for 2018 bringing together a gathering of historic traction engines, steam rollers and other historic exhibits such as stationary engines, agricultural and construction vehicles, vintage motorcycles and bicycles, working horses, wood and metal craft and the like.
During the show vehicles will be demonstrated in the show ring and during the weekend they will be parked up in an area for the public to view more closely giving you chance to examine and talk to the owners.
The showring programme of displays includes:
BOTH DAYS
Rede Hall Farm Park will be bringing heavy horses to The Steam and Vintage show giving a showring twice daily display including two 'ladies' carts – each with a single horse, a brewery dray with a pair of horses and an agricultural wagon with a pair of horses. They would allow accompanied children into the ring to be up close to the horses.
SATURDAY ONLY
Lowestoft Dog Agility have been Displaying at public events for over 50 years. They are Britain's oldest established dog display team. Their display is packed with entertainment with a fantastic display of Dog agility and skills.
SUNDAY ONLY
Richard Little is based in Norfolk and has dedicated his life to the art of training and producing sheep dogs. Richard's Demonstrations are designed for all ages, and combine both the skills of a shepherd, with a humorous look at the day to day life of a sheep farmer.
There will also be during the weekend a fairground with a selection of rides and old time funfair stalls, Punch & Judy, Debenham High School Big Band and Choir. A vintage market selling retro and antique clothing and nostalgic items of interest. Entertainment areas with food, drink, Morris dancing and vintage related trade and craft stalls.
Dogs are welcome but must be kept on leads.
Come along for this new show for 2018 for a great family day out.